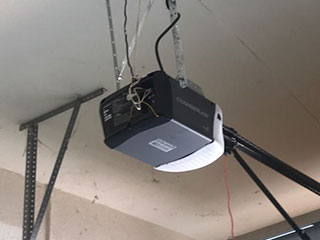 Many common problems that garage door owners experience can be traced back to a malfunctioning opener. Old or faulty units can be slow to move, unreliable, and also noisy. Our highly experienced technicians can help you identify exactly what the problem is and how to solve it - this could involve installing new drive components, repairing motor damage or conducting out some maintenance work. Checking the alignment of the safety sensors and the functionality of the auto-reverse mechanism are important tasks that need to be conducted regularly to ensure your opener is safe for you to use.
When To Upgrade
Sometimes the best option is simply to invest in a new system altogether. You won't just be swapping like-for-like, though; advancements in modern technology makes today's opener models far quieter, faster and more reliable than older units. You'll also benefit from a wide range of different options that suit every type of home. If your old unit isn't working as well as it used to, you may want to consider investing in a new model.
Choosing The Right Drive Type
The first decision to make when choosing a new motor unit is the type of drive system that you'll need. Each type has different benefits; a screw drive model requires very little maintenance, but it can be affected by drastic temperature shifts and isn't very silent. A belt drive opener would be extremely quiet, but also a little more expensive. A chain drive unit is the most basic type of opener and also the noisiest, but it usually costs a lot less and is a great reliable choice for many homeowners. If you're not sure which type is the best one for your specific needs, our experts will be more than happy to walk you through the various options.
Selecting Additional Features
You're not just limited to choosing a drive type for your new system. You'll also be able to choose between a whole range of different convenience and security enhancing features, such as rolling code technology, WiFi integration, motion detectors and a battery backup. These features can make using your garage a lot more convenient. Once again, our team will gladly help you make sense of the different options that are available to you.
Just Give Us a Call
Having some trouble with your motor unit? Looking to upgrade to a new and improved model? Then contact Garage Door Repair Glendora today and find out what your choices are. Our experts will be more than happy to fix any type of problem you may be dealing with, or to help you understand the benefits each model presents.
Count on our team for:
Bottom Seal Rubber
Oil Tempered Torsion Springs
Noisy Doors Silenced
Garage Door Weather Stripping