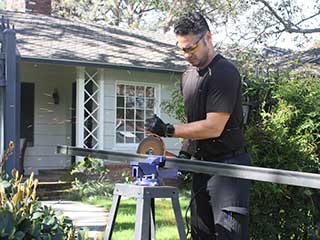 A broken or unresponsive gate can be a major inconvenience. These systems are often more complicated than they appear, especially automatic ones with remote control systems. Fortunately, our experts in Glendora have got you covered.
Diagnostics And Testing
It's usually not clear why a gate has stopped working. All too often, you won't know there's anything wrong until it abruptly refuses to open or close - the problem could be mechanical, electrical, or even software-related if your gate uses a smart system. Our professionals will gladly go over your entire system, from the opener to the control systems to the mechanism itself and find out exactly what's gone wrong and what needs to be done about it.
Tracks And Hinges
Often, the problem comes down to warping or the presence of rust along the sliding gate's tracks or hinges. In such cases, the problem just requires some lubrication and readjustment; our team can hammer the tracks back into place, treat any rust and provide fresh lubrication to keep the problem from returning any time soon. If the damage is more extreme, we can also install fresh track segments or hinges.
Replacement Parts Available
A faulty opener or a broken sensor can sometimes be repaired on location, but in some cases you'll need a replacement part. Our team is familiar with all the top manufacturers, and can help you pick out a replacement that fits both your price range and system. If we don't have the part you need in stock, we can order it for you and install it at your convenience.
Call Us Today
Don't live with a stuck gate any longer than you have to. Give our experts a call and tell us about your problem. We make house calls seven days a week, and can have a team on its way at your soonest convenience.
Give our team a call if you need help with:

FAAC Gate Opener

Swing Gate Post Repair

Hinge Welding Repair

Doorking Gate Intercoms